General Science & Engineering Department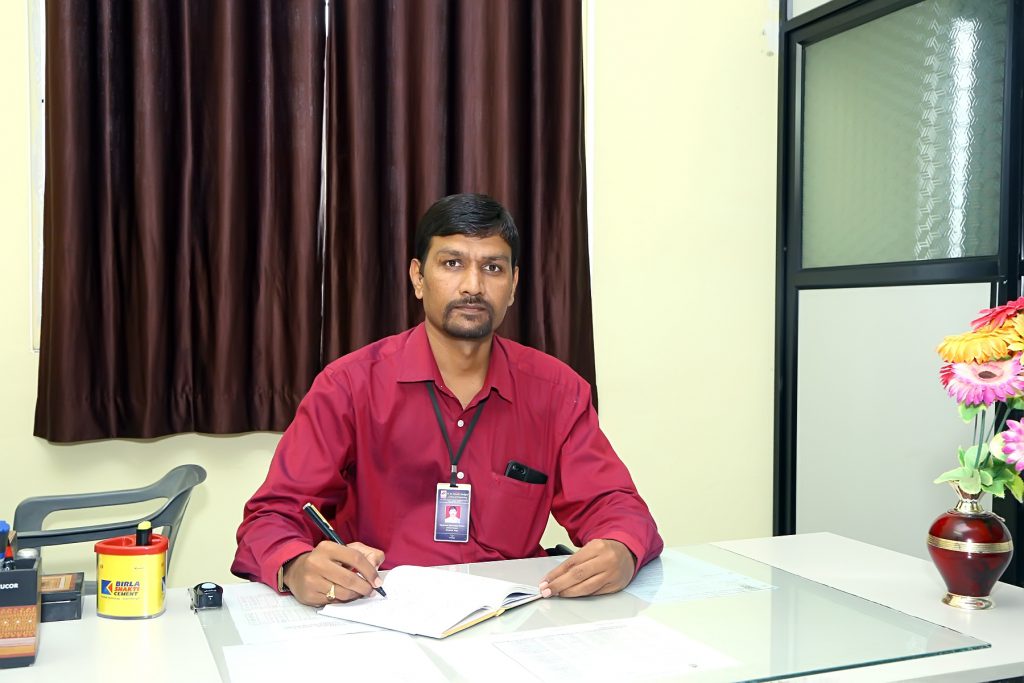 The department of General science and engineering embodies Physics, Chemistry, Mathematics, and Communication Skills and Engineering subjects. These subjects are part of first year engineering undergraduate course. All the above subjects are compulsory for first year engineering curriculum. The department has started functioning since the academic year 2010-11.
Objectives
To provide fundamental of basic sciences & Communication Skills

To enhance moral, intellectual, emotional, physical development.

To provide caring and nurturing environment

To be at leading position in the university results of FE.
Through Teacher –Guardian scheme, attendance and academic performance of students is monitored and the report is sent to the parents regularly. Students counseling meetings are conducted weekly. In addition to university final examinations, unit tests, midterm examinations, guest lectures, sports, and cultural programs are organized. Experienced and qualified faculties take efforts persistently which lead to good result.
In this academic year 2016-17, GSE staff members actively involved as activity In charge for various events under ITRDC 2017.
The Department have Ph. D. Completed TWO Faculties in Mathematics, Two faculties in Physics and One in Education with Mathematics background.
Our students have participated/ won in various academic, sports, technical competitions at institute, university level.
The department has Engineering physics and chemistry labs which has total investment of four lakhs approximately.
To educate students in fundamental engineering and preparing them for self transformation towards innovative and competent engineer.
With a high caliber faculty and excellent infrastructure, we promote academic excellence, absolute discipline and sound practical exposure
Faculty Details
Infrastructure
Research and Publication
Conference and Seminars
Workshop Attended & Conducted
Result
Staff Achievement
Student Achievements
Interaction with Outside World
News and Events
Non-Teaching Details
Faculty Details
| | | | | | |
| --- | --- | --- | --- | --- | --- |
| Name | Designation | Qualification | Total experience in years | Email ID | Photo |
| Dr. S. H. Pawar | Professor & Director, CRTD |  M.Sc., Ph.D., F.I.C.C., F. M. A. Sc |   | shpawar.nbnscoe@sinhgad.edu | |
| Dr.I.M.Chandarki | Asso. Prof. & Dean PG Program | Ph.D MSc.(Mathematics) | 13 | imchandarki.nbnscoe@sinhgad.edu | |
| /Dr. S H Kshirsagar | Asso. Prof. & Dean Student Welfare | Ph.D MSc.(Physics) B.Ed. | 21 | shkshirsagar.nbnscoe@sinhgad.edu | |
| Prof.V.S.Biradar | Assis. Prof. & HoD. | ME (Control System) Ph.D Pursuing | 17 | vsbiradar.nbnscoe@sinhgad.edu | |
| Dr.V V Kharat | Associate Professor | Ph.D.,MPhil,MSc(Mathematics) | 13 | vvkharat.nbnscoe@sinhgad.edu | |
| Prof.K S Patil | Assistant Professor | Ph.D Pursuing MSc.(Chemistry)B.Ed. NET(Chemistry) | 14 | kspatil.nbnscoe@sinhgad.edu | |
| /Prof. S V Palmur | Assistant Professor |  MSc.(Mathematics)B.Ed. SET(Mathematics) | 10 | svpalmur.nbnscoe@sinhgad.edu | |
| /Prof. S R Konda | Assistant Professor |  MSc.(Mathematics)B.Ed. GATE, SET(Mathematics) | 13 | srkonda.nbnscoe@sinhgad.edu | |
| Prof. R D Deshmukh | Assistant Professor | MA ,MBA | 9 | rddeshmukh.nbnscoe@sinhgad.edu | |
| Prof. M A kazi | Assistant Professor | Ph.D. Pursuing,MSc(Mathematics) | 7 | makazi.nbnscoe@sinhgad.edu | |
Infrastructure
Lab Photo

Lab Name

Lab Details

Engineering Physics Lab

 

 

Total Area: 144.5m2

 

 

Total thirteen experiment kits with 2quantity for each experiment. Well equipped dark room for experiments in optics. Practical's conducted in this lab are Engineering Physics practical's of First year Engineering.

Total cost of the equipments is Rs. 2, 75, 801/-

 

Dr. S H Kshirsagar

Lab - In charge

Engineering Chemistry Lab

 

Total Area: 144.5m2

 

Engg. Chemistry lab consists of more than 10 hands on experiments. It consists of major equipments like PH meter, Hot Oven, Water Still, Heating Mentle, Dimmer stat with Magnetic Stirrer, Calorimeter, etc. The total cost of Engineering Chemistry Lab is Rs. 3,33,712.13/-

 

Prof. K S Patil

Lab-In charge

Basic Mechanical Engineering Lab

 

 

Total Area: 72 m2

 

 

Basic Mechanical Engineering is well equipped Lab for All branches of first year engineering.

              Basic Mechanical Engineering Lab consists of six hands on experiments. It consists of major equipments like hands on Refrigerators and Air Conditioning, Two Stroke And Four Stroke engine, Pump, Compressors, Machine Tools and Joining Processes. It is based on the Application of Design, Manufacturing and Thermal Engineering.

Total Cost of Lab is Rs. 19,012.5 /- 

Prof. Sachin M. Chavan

Lab In-Charge

Basic Electrical & Electronics Engineering Lab

 

 

Total Area: 72 m2

 

This lab is combination of two departments i.e. electronic and electrical. So equipment related to both departments are available in this lab. Total 49 equipments are present out of which 3 are major. First year BEEE (Basic Electrical and Electronic Engineering) practical are conducted in this lab. 

Total investment of this lab is Rs. 5,43,757/-.

 

Prof. M S Raut

Lab-In charge

Engineering Graphics Drawing Hall

 

 

Total Area : 144.5 m2

Engineering Graphics and Drafting Lab (Drawing Hall) isis having total 29 wooden drawing model objects which help the students to visualize and correlate the theoretical concepts practically. 

The total cost of the wooden models  is 43,594/- Rs.

 

Asst. Prof. A A Kulkarni

BME Lab In-charge

Engineering Mechanics Lab

 

Total Area: 72 m2

 

Engineering Mechanics Lab consists of seven hands on experiments. It consists of major equipments like Parallel force apparatus - Compound beam , simple beam , Fleture Trolley etc.

Total Cost of Lab is Rs. 66,672 /- 

Prof. S B Tanwade

Lab In-Charge
Research and Publication
| | | | | | | |
| --- | --- | --- | --- | --- | --- | --- |
| Sr. No. | Name of the Teacher | Other Authors if any | Title of paper/ Book | Name of Jounal (with UGC Journal No.) | ISSN/ISBN of Journal | Month and Year of Publication |
| 1 | Prof.K S Patil | Prof.B S Kale | Chemistry for Karnataka paramedical board(BOOK) |   | ISBN 978-81-9391-590-5 | First Edition 1st November 2019 Second Edition July 2020 |
| 2 | Dr. I M Chandarki | Dr. B B Singh | On Pade approximants series solutions of MHD flow equations with heat and mass transfer due to a point sink | Algebraic Structures and Applications, Springer Proceedings in Mathematics & Statistics 317, https://doi.org/10.1007/978-3-030-41850-2_40 | 978-3-030-41849-6 | June 2020 |
| 3 | Prof. K S Patil | No | Engineering Chemistry(BOOK) |   | ISBN 978-81-939159-5-0 | 1st March 2020 |
| 4 | Dr. V V Kharat | Prof.Shivaji Tate, Prof.H T Dinde | On Nonlinear Fractional Integrodifferential equations with positive constant Coefficient, 16:41, 1-20. | Mediterranean Journal of Matematics (Springer) | ISSN (Print): 1660-3846 (Online): 1660-3838 | March 2019 |
| 5 | Dr. V V Kharat | Prof.Shivaji Tate, Prof.H T Dinde | A nonlocal Cauchy Problem for Nonlinear Fractional Integrodifferential Equations with Positive Constant Coefficient, 7(1), 133-151. | Journal of Mathematical Modeling | ISSN (Print): 2345-394X (Online): 2382-9869 | January 2019 |
| 6 | Dr. V V Kharat | Prof.D B Dhaigude, Prof.D R Hasabe | On Nonlinear Mixed Fractional Integrodifferential incluion with four-point nonlocal Riemann-Liouville integral boundary conditions, 50(4), 937-951 | Indian Journal of Pure & Applied Matematics (Springer) | ISSN (Print): 0019-5588 (Online): 0975-7465 | 19th November 2019 |
| 7 | Dr. V V Kharat | Prof.Shivaji Tate, Prof.H T Dinde | On Nonlinear Mixed Fractional Integrodifferential equations with positive constant Coefficient, 33(17) | Filomat | ISSN: 2406-0933 | 2019 |
| 8 | Dr. V V Kharat | Prof. S M Vyavhare | Handbook of Mathematics Formulae for FY BTech of Punyashlok Ahilyadevi Holkar Solapur University(BOOK) |   | ISBN 978-93-88424-69-1 | July 2019 |
| | | | | | | |
| --- | --- | --- | --- | --- | --- | --- |
| Sr. No. | Name of the Teacher | Other Authors if any | Title of paper/ Book | Name of Jounal (with UGC Journal No.) | ISSN/ISBN of Journal | Month and Year of Publication |
| 1 | Dr. S H Kshirsagar | Dr. H B Kulkarni | Synthesis and characterization of Ni-Zn Ferrite for electrical and electronic applications | Journal of Frontiers in Interdisciplinary Research and Technology Development |   | Jul-18 |
| 2 | Dr. V V Kharat |   | On existence and uniqueness for the boundary value problems of fractional integrodifferential equation | Journal of Frontiers in Interdisciplinary Research and Technology Development |   | Jul-18 |
| 3 | Dr. S  H Pawar | N A Mulla | Biosynthesis of Protein Coated Selenium nanoparticles by Lactobacillus caseifor medical applications | Journal of Frontiers in Interdisciplinary Research and Technology Development |   | Jul-18 |
| 4 | Dr. S  H Pawar | P P Patil | Overview of Recent Developments of Wound Dressing Materials | Journal of Frontiers in Interdisciplinary Research and Technology Development |   | Jul-18 |
| 5 | Dr. S  H Pawar | A patil                        J Disouza | Formulation of Lactobacillus plantarumprobiotics asgranule form for antibacterial and anticancer activities | Journal of Frontiers in Interdisciplinary Research and Technology Development |   | Jul-18 |
| 6 | Dr. V V Kharat |   | On Existence and uniqueness of fractional integrodifferential equations with a integral fractional boundary condition | Malaya Journal of Matematik                        (UGC Journal No. 48945) | ISSN (Print) : 2319-3786 ISSn (Online) : 2321-5666 | May-18 |
| 7 | Dr. S H Kshirsagar | A N TARALE, S R Jigjeni, D J Salunke | Study of Structural Ferrroelectric and Magnetodielectric properties of cobalt dopped SBN ceramics | International Journal Multifaceted and MultiLingual studies | ISSN :2394-207x | Feb-18 |
| 8 | Dr. I M Chandarki | G. Murali, N. V. Narendrababu | Essential Engineering Mathematics | LAMBERT Academic Publishing | ISBN : 978-613-7-43639-4 | Feb-18 |
| 9 | Dr. I M Chandarki | Dr. B B Singh | Asymptotic Properties of Similarity Boundary Layer Equations | LAMBERT Academic Publishing | ISBN : 978-620-2-09367-5 | Dec-17 |
| 10 | Dr.  S H Pawar | A. R. Patil, J. I. Disouza | Lactobacillus acidophilus as a Preferable Natural Anticancer Agent | SM Journal of Pharmacology and Therapeutics | ISSN : 2574-2396 | Dec-17 |
| 11 | Dr. V V Kharat | D R Hasabe                   D B Dhaigude | On existence of Solution to mixed nonlinear fractional integrodifferential equations | Applied Mathematical Sciences  | ISSN (Print) : 1312-885X ISSN (Online) : 1314-7552 | 2017 |
| 12 | Dr. I M Chandarki | Dr. B B Singh | Asymptotic behaviour of Solutions MHD Flow equations with heat and mass transfer due to a point sink | Internation Journal on Current Engineering and Scientific Research (UGC Journal No. 43032) | ISSN (Print) : 2393-8374 ISSN (Online) : 2394-0697 | 2017 |
| 13 | Dr.  S H Pawar | VB Koli, AG Dhodamani, KV More, S. F.A. Acquah, DK Panda, S D Delekar | A simple strategy for the anchoring of anatase titania On multi-walled carbon nanotubes for solar energy harvesting | Solar Energy (UGC Journal No. 33282) | ISSN : 0038-092X | 42887 |
| 14 | Dr. I M Chandarki | Dr. B B Singh | Homotopy Analysis Method for the mixed convection Boundary layer flow over a vertical surface embeded in a saturated porous medium | ITRDC Souvenier |   | FEB 2017 |
| 15 | Dr. S H Kshirsagar | A N Tarale, S R Jigajeni, D J Salunkhe, S B kulkarni, P B Joshi | Dielectric Ferroelectric & Magneto dielectric Properties of Ni Doped Strontium Barium Niobate ceramics | ITRDC Souvenier |   | FEB 2017 |
| 16 | Dr. V V Kharat | Nil | Non-linear   Fractional IntegroDifferential Equations with nonlocal Fractional integrodifferential boundary Condition | ITRDC Souvenier |   | FEB 2017 |
| 17 | Dr. V V Kharat | R B Thakare | On Existence of Solution for Fractional IntegroDifferential Inclusions with Integral boundary condition | ITRDC Souvenier |   | FEB 2017 |
| 18 | Dr. V V Kharat | S R Konda | On Existence and Uniqueness of Solutions of Fractional IntegroDifferential Inclusions with boundary condition | ITRDC Souvenier |   | FEB 2017 |
| 19 | Dr. S H Pawar | A P Tiwari | Engineering Fe3O4 nanoparticles for their applications in pathogen detection by functionalization with reactive groups | ITRDC Souvenier |   | FEB 2017 |
| 20 | Dr. S H Pawar | S G Kumbhar | Designing and fabrication of chitosan-alginate scaffolds for stem cell technology | ITRDC Souvenier |   | FEB 2017 |
| 21 | Dr. S H Pawar | V B Koli, S D Delekar | Design and Fabrication of Photoactive TIO2 -MWCNTS Nanocomposites Coatings for hospitals | ITRDC Souvenier |   | FEB 2017 |
| 22 | Dr. S H Pawar | D V Sawant | NANOMATERIAL BASED EARLY STAGE DETECTION OF PULMONARY MYCOBACTERIUM TUBERCULOSIS | ITRDC Souvenier |   | FEB 2017 |
| 23 | Dr. S H Pawar | P P Patil, J V Meshram, S G Nanaware | Synthesis and Characterization of ZnO Nanoparticles Deposited Silk Fibroin/ PVA Nanocomposite Film for Wound Dressing Application | ITRDC Souvenier |   | FEB 2017 |
| 24 | Dr. S H Pawar | N A Mulla | Biosynthesis of monodisperse selenium nanoparticles by using aqueous leaf extract of Azadirachtaindica: A rapid and ecofriendly approach | ITRDC Souvenier |   | FEB 2017 |
| 25 | Prof. V S Biradar | K K Jagtap, Ganesh patil, P K Katti, N N Shinde | Techno- Economic Feasibility Study of Wind-Solar PV Hybrid Energy System in Maharashtra State, India | IEEE Conference Souvenier | ISSN (ONLINE) : 978-1-4673-8888-7                        ISBN : 978-1-4673-8887-0 | DEC 2016 |
| 26 | Dr. I M chandarki | Dr. B B singh | On the Convex and Concave Solutions of a Steady MHD Boundary Layer Equation | Review of Research   (UGC JOURNAL NO. 48514) | ISSN : 2249-894X | DEC 2016 |
| 27 | Dr.  S H Pawar | VB Koli, SD Delekar | Photoinactivation of bacteria by using Fedoped TiO2-MWCNTs nanocomposites | Journal of Materials Scien-ce: Materials in Medicine (UGC Journal No. 24465) | ISSN (Print) : 0957-4530 ISSN (ONLINE) : 1573-4838 | Dec-16 |
| 28 | Dr.  S H Pawar | JV Meshram, VB Koli, MR. Phadtare | Anti-microbial surfaces: An approach for deposition of ZnO nanoparticles on PVA-Gelatin composite film by screen printing technique | Materials Science & Engineering C (UGC Journal No. 3997) | ISSN : 0928-4931 | Dec-16 |
| 29 | Prof. K S Patil | A V Diwate, S N Gaikwad, N N Maldar | Organosoluble and Thermally Stable Aromatic Polyamides Containing Methylene and Ether Linkages : Synthesis and Characterization | Conference Souvenier |   | OCT 2016 |
| 30 | Dr.  S H Pawar | VB Koli, AG Dhodamani, SD Delekar | In situ sol-gel synthe-sis of anatase TiO2-MWCNTs nanocomposites and their photocatalytic applications | Journal of Photochemistry and Photobiology A: Chemistry (UGC Journal No. 19181) | ISSN : 1010-6030 | 42644 |
| 31 | Dr.  S H Pawar | VB Koli, AG Dhodamani, AV Raut, ND Thorat | Visible light photo-induced antibacterial activity of TiO2-MWCNTs nanocomposites with varying the contents of MWCNTs | Journal of Photochemistry and Photobiology A: Chemistry (UGC Journal No. 19181) | ISSN : 1010-6030 | 42614 |
| 32 | Dr. I M Chandarki | Nil | On Series Solution of MHD Flow over a Stretching Permiable Surface | Proceedia Engineering (UGC Journal No. 48898) | ISSN : 1877-7058 | DEC 2015 |
| 33 | Dr. I M Chandarki | Dr. B B Singh | A Course In Engineering Mathematics  | Synergy Knowledgeware, Mumbai | ISBN: 978-93-8335-216-6 | NOV 2015 |
| 34 | Prof. S H Kshirsagar | A N Tarale, S R Jigajeni, D J Salunkhe, S B kulkarni, P B Joshi | Multiferroic properties of SBN-LSMO, SBN-NZCFO and SBN-LSMO-NZCFO particulate composites | Journal of Material Sciences | ISBN : 0957-4522 | OCT 2015 |
| 35 | Prof. K S Patil | S S Deokar, A V Diwate, N N Maldar | Poly ( Ether-ether-ketone)s from Bisphenol containing ether-amide linkage | Conference Souvenier |   | FEB 2014 |
| 36 | Prof. V S Biradar | R B Gharase, M D Chavan, N S Kashid | Face detection and recognition using Local Binary Pattern | International Journal of Graphics and Image Processing |   | FEB 2014 |
| 37 | Prof. I M Chandarki | S S Hiremath | Engineering Mathematics- I | Tech-Max Publication | ISBN : 978-93-5077-377-2 | 41518 |
| 38 | Prof. I M Chandarki | Dr. B B singh , T D Pawar, S S Hiremath | Engineering Mathematics- II | Tech-Max Publication | ISBN : 978-81-8407-900-5 | 41275 |
| 39 | Prof. I M Chandarki | Dr. B B singh | Non-integral technique and differential transformation method for MHD boundary layer flow of an incompressible fluid past a at plate | International Journal of Applied Mathematical Research | ISSN : 2227-4324 | 2012 |
| 40 | Prof. I M Chandarki | Dr. B B singh | Existence, uniqueness and asymptotic behaviour of the solution of axi-symmetric flow equations past a right-angled wedge | International Journal of Applied Mathematics and Computation- Darbose (UGC Journal No. 2568) | ISSN:00974-4665(print) 0974-4673(online) | 2012 |
| 41 | Prof. I M Chandarki | Dr. B B singh                             C. N. Guled | On the asymptotic behavious of MHD Flow over a stretching permeable Surface | Proceedings of Mathematical Society, BHU (UGC Journal No. 44489) | ISSN : 09707080 | 2012 |
Conference and Seminars
A.Y.
Sr. No.
Name of the Teacher
Conference/ Seminar
Level
Title of Conference / Seminar
Title of the Paper
Organized by
Dates

2019-20

1

Dr. V V Kharat

Conference

National

Recent Applications of Applied Sciences and Humanities

Some existence results on implicit fractional differential equations

Government College Satnali, Mahendergarh, Haryana

7th June 2020

2

Dr. S H Kshirsagar

Conference

International Conference

International Conference on Smart Materials and Nanotechnology (ICSMN-2020)

Nil

SKN Sinhgad College of Engineering, Pandharpur

2nd-4th January 2020

3

Dr. V V Kharat

Conference

National

Trends in Engineering & Technology

On Existance And Stability Results For Integral Fractional Boundary Conditions For Nonlinear Fractional Volterra Integrodifferential Equations With Positive Constant Coefficient

AG Patil college of engg., Solapur

15th-16th March 2019

4

Dr. V V Kharat

Conference

National

Recent Developments in Pure & Applied Mathematics

On implicit fractional differential equations with integral boundary condition.

Yashvantrao Chavan Institute of Science, Satara

26th-27th February 2019

5

Dr. V V Kharat

Conference

National

Modern and Computational Mathematics

On existance and uniqueness results for a class of Fractional Volterra Integrodifferential Equations with an Integral Fractional Boundary Condition.

Yashvantrao Chavan Institute of Science, Satara

26th-27th February 2019

6

Dr. S H Kshirsagar

Conference

National level

Crises in Technical Education

Nil

SOA University Bhubneshwar

29th-30th November 2019

7

Dr. I M Chandarki

Conference

National

National Conference on Mathematics and its Applications ( NCMA-2019)

Pade Series Solution for the MHD Similarity Boundary Layer Equation of a Viscous Fluid over a Constant Wedge Immersed in a Porous Medium

Karnatak University,Dharwad

7th-8th November 2019

8

Prof. S V Palmur

Conference

National

National Conference on "Mathematics and its Applications"(NCMA-2019)

Poster presentation on titled "Pade series solution for the MHD similarity boundary layer equation of a viscous fluid over a constant wedge immersed in a porous medium"

Karnatak University,Dharwad

7th-8th November 2019

2018-19

9

Dr. I M Chandarki

Seminar

National

"Seminar on Recent Trends in Mathematics"

Homotopy Analysis Method for Differential Equations

Apparao Pawar College of Science, Under Pune University, pune

27th February 2018

10

Prof. V S Biradar,Prof.K S Patil,Dr.S H Kshirsagar,Prof. S R Konda,Prof. S V Palmur,Prof.M A Kazi

Conference

National

New and emerging technologies for water resources (NETWAR-18)

Nil

Civil department, NBNSCOE

27nd-28th July 2018
A.Y.

Sr. No.

Name of the Teacher

Conference/ Seminar

Level

Title of Conference / Seminar

Title of the Paper

Organiser

Date/s

2107-18

1

Dr. I M Chandarki

Conference

International

SPAS-2017

On Pade Approximants Series Solutions of MHD Flow Equations with Heat and Mass Transfer due to a Point Sink

Mälardalen University, Västerås, And Stockholm University, Stockholm , Sweden

4-6/10/2017

2

Dr. V V Kharat

Conference

International

ICAA

On existence and uniqueness results for a class of fractional integrodifferential equations with an integral fractional boundary conditions

SPPU, Pune

19-21/12/2017

3

Dr. S H Kshirsagar

Conference

National

NENSM 2018

 

 D B F Dayanand College of Arts & Science, Solapur

12/2/2018

4

Dr. S H Kshirsagar

Conference

International

ICNTN-2018

Study of Structural, Ferroelectric And Magnetodielectric Properties of Co Doped SBN Composition

BCUD, SPPU, Pune & Dept. of Physics, ITSPM's Arts, Science and commerce College, Indapur, Dist. Pune

26-27/2/2018

5

Dr. I M Chandarki

Seminar

State

RCM

 

Anantrao Pawar College, Pirangut & SPPU, Pune 

27/02/2018

2016-17

1

Prof. K S Patil

Conference

National

National Teachers' Congress

 

M I T, Pune

23-25/9/2016

2

Prof. K S Patil

Conference

International

Smart Engineering Materials

Organosoluble and thermally stable aromatic polyamides containing methylene and ether linkages : synthesis and characterization

R V College of Engineering, Bengaluru

20-22/10/2016

3

Dr. S H Kshirsagar

Conference

International

Advances In Material Science

Magnetodielectric properties of SBN-CMFO Nanocomposites

Raje Ramrao Mahavidyalaya, Jath, Dist. Sangli

7-8/12/2016

4

Prof. V S Biradar

Conference

International

Power Electronics, Drives and Energy Systems

Techno-Economic Feasibility Study of Wind Solar PV hybrid energy system in Maharshtra state, India

Mar Baselios College of Engineering and Technology, Trivandrum, Kerala.

14-17/12/2016

5

Dr. I M Chandarki

Conference

National

EMTACRE and DAE Technologies

Homotopy Analysis Method for the Mixed Convection Boundary Layer Flow Over a Vertical Surface Embeded in Porous Medium

N B N S C O E , Solapur

18-20/2/2017

6

Dr. S H Kshirsagar

Conference

National

EMTACRE and DAE Technologies

Dielectric Ferroelectric & Magneto Dielectric Properties of Ni Doped Strontium Barium Niobate Ceramics

N B N S C O E , Solapur

18-20/2/2017

7

Prof. M A Kazi

Conference

National

EMTACRE and DAE Technologies

 

N B N S C O E , Solapur

18-20/2/2017

8

Prof. S D Bhorgunde

Conference

National

EMTACRE and DAE Technologies

 

N B N S C O E , Solapur

18-20/2/2017

9

Dr. V V Kharat

Conference

National

EMTACRE and DAE Technologies

On Existence of Solution for Fractional IntegroDifferential Inclusions with Intgral Boundary Conditions

N B N S C O E , Solapur

18-20/2/2017

10

Dr. V V Kharat

Conference

National

EMTACRE and DAE Technologies

Nonlinear Fractional IntegroDifferential equation Boundary with Nonlocal Fractional Integrodifferntial boundary Conditions

N B N S C O E , Solapur

18-20/2/2017

2015-16

1

Dr. I M Chandarki

Conference

International

Computational Heat and Mass Transfer

On Series Solution of MHD Flow Over a Stretching Permeable Surface

Department of Mathematics,       N I T , Warangal

30/11-2/12/2015

2

Prof. V S Biradar

Conference

International

Advances in Engineering Science & Technology

V/F Speed Control of 3 phase Induction Motor using Space Vector Modulation

B M I T , Solapur

6-7/2/2016

3

Prof. R D Deshmukh

Seminar

National

Recent trends in Teaching English In Higher Education (RTTEHE 2015)

 

Annasaheb Dange College of Engineering and Technology, Ashta

8/8/2015

2104-15

1

Prof. K S Patil

Conference

National

Latest Trends In Fundamental research

 

School of Chemical Sciences, Solapur University, Solapur & RSC- West India Section

21/02/2015

2

Dr. I M Chandarki

Seminar

National

Fuzzy Mathematics & Its Applications

 

Department of Mathematics, Solapur University, Solapur

28/02/2015

3

Prof. S V Palmur

Seminar

National

Fuzzy Mathematics & Its Applications

 

Department of Mathematics, Solapur University, Solapur

28/02/2015

4

Prof. S R Konda

Seminar

National

Fuzzy Mathematics & Its Applications

 

Department of Mathematics, Solapur University, Solapur

28/02/2015

5

Dr. Y G Datar

Seminar

National

Fuzzy Mathematics & Its Applications

 

Department of Mathematics, Solapur University, Solapur

28/02/2015

2013-14

1

Prof. K S Patil

Conference

National

PHYSICS & CHEMICTRY of Advanced Materials

 

C B Khedgi's Basaveshwar Science College, Akkalkot

18-19/12/2013

2

Prof. K S Patil

Conference

National

Advanced Research Trends In Chemistry

 

Department of Chemistry, D B F Dayanand College of Arts and Science, Solapur

22-23/02/2014

3

Prof. K S Patil

Conference

National

Micro-Nano Technology In Service of Rural India

 

BARC, Mumbai & SVERI's College of Engineering, Pandharpur

25-26/4/2014

4

Prof. K S Patil

Conference

National

Frontiers In Chemical Sciences

 

School of Chemical Sciences, Solapur University, Solapur

30/06/2014

2102-13

1

Prof. K S Patil

Conference

International

Emerging Trends in Chemical Sciences

 

School of Chemical Sciences, Solapur University, Solapur

2-4/11/2012
Workshop Attended & Conducted
Workshop Attended
Sr.No.
Name of the Teacher
Title of workshop
Duration
Organizer
Date/s
(No. of days/weeks)

1

Prof.V S Biradar

One Week Online FDP on "DESIGN OF SOLAR PV SYSTEM USING PVSYST SOFTWARE"

One Week

Electrical and Electronics Engineering Department, Vagadevi College of Engineering, Warangal (AUTONOMUS)

9th-13th June 2020

2

Prof.V S Biradar

One week National Level Online Short Time Training Program on "MATLAB for ALL"

One Week

SKET's SIR M VISVESVARAYA INSTITUTE OF TECHNOLOGY, Bangalore

4th-8th June 2020

3

Dr. S H Kshirsagar

The webinar on "Human values and Professional ethics"

Two days

Department of Engineering Sciences, JSPM's RSCOE, Pune.

6th-9th June 2020

4

Prof.V S Biradar

One Week Online FDP on "Tools for Scientific Communication and Effective Teaching"

One Week

Electrical and Electronics Engineering Department, Vagadevi College of Engineering, Warangal (AUTONOMUS)

2nd-6th June 2020

5

Prof.V S Biradar

ISTE & IEI Approved National Level One Week Online FDP on "Advanced Teaching Tools, Techniques and Methodologies for OBE"

One Week

AISSMS College of Engineering, Pune

1st-6th June 2020

6

Dr. S H Kshirsagar

One week Online Faculty Development Program (FDP) on"Problem Based Learning"

One week

The Department of Electronics and Telecommunication Engineering, JSPM's Rajarshi Shahu College of Engineering, Pune

1st-5th June 2020

7

Prof.V S Biradar

online workshop on "Education 4.0-Season II"

Three days

IQAC, Atharva College of Engineering Mumbai

28th-30th May 2020

8

Prof.V S Biradar

Faculty Development Programme on "Implementation and Simulation of Electrical Engineering Applications Using PLECS Tool".

One week

Electrical and Electronics Engineering Department, Vagadevi College of Engineering, Warangal AUTONOMUS In Association with PLEXIM, Switzerland

28th-30th May 2020

9

Prof.S V Palmur

Online FDP on "Data Science using R"

Three days

K.K.Wagh Institute of Engineering Education and Research,Nashik

28th-30th May 2020

10

Dr. V V Kharat

FDP on GeoGebra

One week

Dept. of Mathematics, Willingdon college, Sangali in association with Spoken Tutorial Software Training Project developed by IIT Bombay

23rd-30th May 2020

11

Dr. V. V. Kharat

Mathematical Documentation and Computation using online Tools

Two days

PG and Research Dept of Mathematics, St. Mary's College, Thootukudi, Tamil Nadu

28th -29th May 2020

12

Dr. V. V. Kharat

Recent Research topics in Mathematics

Two days

Dept of Mathematics, AUXILIUM College, Vellore, Tamil Nadu

28th -29th May 2020

13

Prof. V S Biradar

Faculty Development Programme on "Promoting Quality Culture in Technical Institutions"

One week

IQAC AISSMS College of Engineering Pune, Unser UGC PARAMARSH Scheme

25th -29th May 2020

14

Dr. V. V. Kharat

FDP on ADCET Webinar series

One week

Annasaheb Dange College of Engg and Tech., Ashta

21st -26th May 2020

15

Prof. V S Biradar

Faculty Development Program on "Digital Litaracy: Stepping into New Normal

Three days

MIT School of Education and Research MIT Art Design and Technology University, Pune

21st -23th May 2020

16

Prof. V S Biradar

One Week Faculty Development Program on "Spoken Tutorial Technology"

One week

Department of Mechanical Engineering of Smt. Kashibai Navale College of Engineering in association with Spoken Tutorial IIT Bombay

18th -23th May 2020

17

Prof. V S Biradar

Faculty Development Program on "Research Paper & Project Proposal Writing"

Two days

Department of Electrical and Electronics Engineering, SREE VIDYANIKETHAN ENGINEERING COLLEGE (Autonomous), Tirupati

15th -16th May 2020

18

Prof.S R Konda,Prof.M A Kazi

FDP on ICT Tools

One week

Sree Vidyaniketan Engineering College,Tirupati and STP,IIT BOMBAY

11th -16th May 2020

19

Prof. V S Biradar,Dr.I M Chandarki

Faculty Development Program on "OUTCOME BASED EDUCATION: A STEP TOWARDS EXCELLENCE"

One week

Government College of Engineering, Karad under Margdarshan Scheme of AICTE, New Delhi

11th -15th May 2020

20

Dr. V V Kharat

FDP on GeoGebra

One week

Dept. of Mathematics, R.K. College in association with Spoken Tutorial Software Training Project developed by IIT Bombay

6th May to 12th May 2020

21

Prof. V S Biradar

FDP on "SCILAB"

One week

Department of ENTC S. B. Jain Institute of Technology, Management & Research in association with Spoken Tutorial Project, Indian Institute of Technology Bombay funded by National Mission on Education through ICT, MHRD, Govt. of India

6th May to 12th May 2020

22

Dr. V V Kharat

FDP on Spoken Tutorial Technology

One week

Dept. of Mech., JIT Nagpur in association with Spoken Tutorial IIT Bombay

3rd May to 9th May 2020

23

Dr. V V Kharat

FDP on Skill Development for Online Teaching

Three days

Bhavans College, Andheri, Mumbai

5th May to 7th May 2020

24

Dr. I M Chandarki,Prof. S V Palmur,Prof. S R Konda, Prof.M A Kazi

Online Faculty Development Program on LaTex

One Week

Remote from IIT Bombay,N.B.Navale Sinhgad College of Engineering,Solapur,

25th April to 1st May 2020 Exam on 5th May 2020

25

Dr. S. H. Kshirsagar,Prof. S V Palmur, Prof. M A Kazi

One Day Workshop on C and C++

One day

IIT Bombay, at remote center NBNSCOE, Solapur

29th February2020

26

Prof. S V Palmur,Prof. S R Konda,Dr. S H Kshirsagar,Prof. R D Deshmukh,Prof.M A Kazi

Two Days National Workshop on"Scilab and Latex Software for Research, Computation and Publication"

Two days

Department of General Science and Engineering,N B Navale Sinhgad College of Engineering,Kegaon, Solapur

17th-18th February2020

27

Dr. S. H. Kshirsagar

One Day Workshop on "Innovation, Startup's and Incubation"

One day

Electrical Engineering Department,N B Navale Sinhgad College of Engineering,Kegaon, Solapur

10th February2020

28

Prof.S V Palmur,Prof. S R Konda,Prof.M A Kazi

National workshop on "Research Methodology and Statistical Analysis Using MS Excel and SPSS"

Two days

Hirachand Nemchand College of Commerce and PAHSU Solapur

07th-08th February 2020

29

Prof. V S Biradar

Syllabus Framing for Second Year B.Tech

One day

SKN Sinhgad COE Pandharpur

24th January 2020

30

Prof. V S Biradar

Syllabus Framing for Second Year B.Tech

One day

Brahmdevdada Mane Institute of Technology Solapur

24th Febuary 2020

31

Prof.K S Patil

Water Resources Management

one week

In collaboration with NITTTR Chandigadh

25th-29th Nov 2019

32

Prof. V S Biradar,Prof.K S Patil

Imparting Outcome Based education (OBE) in in Professional Education: Objectives Best Practices and Measurement of Outcomes

Two Weeks

Dr. DYPatil College of Engineering Akurdi Pune

4th-15th November 2019

33

Dr. I M Chandarki

Rendezvous with Lori Beer- Global CIO, JP Morgan

One day

IIT Bombay

5th November 2019

34

Prof. K S patil

Water pollution and health(ICT12)

One week

In collaboration with NITTTR Kolkatta

21st-25th October 2019

35

Prof. M A Kazi

FDP on successfully completing the NPTEL online course for the subject Introduction to Abstract and Linear algebra''

8 weeks

NPTEL

August-October 2019

36

Prof.S V Palmur,Prof. M A Kazi

FDP on successfully completing the NPTEL online course for the subject "Mathematical Methods for Boundary Value Problems"

4 Weeks

NPTEL

July- September 2019

37

Prof V S Biradar,Prof. K S Patil,Dr. I. M. Chandarki

STTP on "Laboratory Safety Management" (ICTSPL02)sponsored by NITTTR

One week

NBNSCOE, Solapur & NITTTR Kolkota

23th-27th September 2019

38

Prof V S Biradar

"eSim a first course in the lot Series"

One day

WIT Solapur & IIT Bombay

21st September 2019

39

Dr. I. M. Chandarki,Prof.S R Konda

One day Workshop on R Programming Language

One day

IIT Bombay

9th September 2019

40

Prof.M A Kazi

one day workshop on Linux

One day

Teaching Learning Centre (ICT) at IIT Bombay ,NBNSCOE

23rd August 2019

41

Prof V S Biradar

Recent Trends in Control System and Applications

One week

SGGS IE&T Nanded

1st-5th July 2019

42

Prof. V S Biradar,Prof.S V Palmur,Prof. M A Kazi

National level One week STTP on "Mathematical Techniques in Solving Engineering problems"

One week

The department of Applied Science,NITTTR,Chandigarh in collaboration with NBNSCOE through ICT

29th April 2019 to 3rd May 2019

43

Prof. V S Biradar,Dr.I M Chandarki,Prof S V Palmur,Prof.S R Konda,Prof. M A Kazi

'Scilab' Workshop

One day

Teaching Learning Centre (ICT) at IIT Bombay ,NBNSCOE

4th May 2019

44

Prof. S R Konda

Designing of Second Year Engg Maths. Under the faculty of Engineering and Technology

One day

Solapur University &WIT ,Solapur

30th April 2019

45

Prof. V S Biradar,Dr.I M Chandarki,Prof.K S Patil,Prof. S V Palmur,Dr.S H Kshirsagar,Prof. M A Kazi

ICT Mode Short Term Training Programme on"NBA Accreditation (ICT01)

One week

National Technical Teachers traninig and Research,Kolkata (MHRD ,Govt.Of India) In collaboration with NBNSCOE through ICT

22nd April-26th April 2019

46

Dr. I M Chandarki

One day Workshop on Scilab

One day

IIT Bombay

16th April 2019

47

Prof. M A KAZI

One day workshop on Moodle Learning Management System

One day

Teaching Learning Centre (ICT) at IIT Bombay ,NBNSCOE

15th March 2019

48

Prof. V S Biradar

Syllabus Framing for Second Year B.Tech

Two days

SKN Sinhgad COE Pandharpur & Brahmdevdada Mane Institute of Technology Solapur

28th January 2019

49

Prof.S V Palmur ,Prof. S R Konda

Certified Microsoft Innovative Educator(SWAY)

One day

Microsoft

26th December 2018

50

Dr. S H Kshirsagar

Certified Microsoft Innovative Educator(SWAY)

One day

Microsoft

24th December 2018

51

Prof. V S Biradar

STTP on Optimization Techniques with Engineering Applications

One week

The department of Applied Science,NITTTR,Chandigarh in collaboration with NBNSCOE through ICT

10th-14th December 2018

52

Prof. V S Biradar,Dr. I M Chandarki,Dr.S H Kshirsagar,Prof.S D Bhorgunde,Prof.M A Kazi

STTP on Outcome Based Education and Accreditation(ICT04)

One week

National Technical Teachers traninig and Research,Kolkata (MHRD ,Govt.Of India) In collaboration with NBNSCOE through ICT

24th-28th September 2018

53

Prof. V S Biradar

Syllabus Framing for First Year B.Tech of Basic Electrical and Electronics Engineering

One day

Solapur University & NBNSCOE

2nd July 2018

54

Prof.K S Patil

Desiging of syllabus of first year Enginnering Chemistry

One day

Solapur University

29th June 2018

55

Prof. S V Palmur,Prof.S R Konda,Prof. M A Kazi

Syllabus Framing for First Year of Engineering Engg.Maths-I & II for F Y B.Tech

One day

Solapur University & NBNSCOE

28th June 2018

56

Dr. S H Kshirsagar

FY BTech Syllabus setting of Engineering Physics

One day

Solapur University and SVERY(Pandharpur)

28th June 2018

57

Prof. V S Biradar,Dr. I M Chandarki

Students Centered Teaching Learning Practices

Two days

N B Navale Sinhgad College of Engineering, Solapur

26th -27th November 2017
A.Y.
Sr. No.
Name of the Teacher
Title of workshop
Duration
Organiser
Date/s

(No. of days/weeks)

2012-13

1

 Prof. S D Bhourgunde

 Research Approach in graph Theory

 One Day

 Department Of Mathematics, Solapur University, Solapur

 27/8/2012

2

 Dr. Y G Datar

 Methodology Of Educational Research

  One Day

 

 30/11/2012

3

 Prof. S R Konda

 Publication with Latex

 One Day

 N B Navale Sinhgad College of Engineering, Solapur

 01/05/2013

4

Prof. V  V Kharat

 Publication with Latex

 One Day

 N B Navale Sinhgad College of Engineering, Solapur

 01/05/2013

2013-14

1

 Prof. V S Biradar

 Application of Microcontroller in Electrical Engineering

 Two Days

 Department of Electrical Engineering, BSCOER, Pune

 10/10/2013    -11/10/2013

2015-16

1

 Dr. I M Chandarki

 Latex

 One Day

Indian Institute of Technology, Bombay

29/08/2015

2

Prof. M A Kazi

Algebra-2015

  One Week

 Department Of Mathematics, Shivaji University, Kolhapur

 21/12/2015-26/12/2015

3

Prof. V S Biradar

How To Manage Money and Be A Smart Investor

One Day

BSE & N B Navale Sinhgad College of Engineering, Solapur

11/1/2016

4

 Dr. I M Chandarki

 How To Manage Money and Be A Smart Investor

 One Day

BSE & N B Navale Sinhgad College of Engineering, Solapur

11/1/2016

5

Prof. K S Patil

How To Manage Money and Be A Smart Investor

One Day

BSE & N B Navale Sinhgad College of Engineering, Solapur

11/1/2016

6

Prof. S V Palmur

 How To Manage Money and Be A Smart Investor

 One Day

BSE & N B Navale Sinhgad College of Engineering, Solapur

11/1/2016

7

Prof S R Konda

How To Manage Money and Be A Smart Investor

One Day

BSE & N B Navale Sinhgad College of Engineering, Solapur

11/1/2016

8

Dr. Y G Datar

 How To Manage Money and Be A Smart Investor

 One Day

BSE & N B Navale Sinhgad College of Engineering, Solapur

11/1/2016

9

Prof. R D Deshmukh

How To Manage Money and Be A Smart Investor

One Day

BSE & N B Navale Sinhgad College of Engineering, Solapur

11/1/2016

10

Dr. S H Kshirsagar

 How To Manage Money and Be A Smart Investor

 One Day

BSE & N B Navale Sinhgad College of Engineering, Solapur

11/1/2016

11

Prof. M A Kazi

Use of Latex

Two Days

Department Of Mathematics, Solapur University, Solapur

28/01/2016-29/01/2016

12

Dr. I M Chandarki

Virtual Labs

 One Day

 College Of Engineering, Pune

 04/05/2016

2016-17

1

 Dr. I M Chandarki

Writing of Research Papers, Ph.D. Thesis and Project Proposals

 One Day

N B Navale Sinhgad College of Engineering, Solapur

20/12/2016

2

Prof. M A Kazi

Writing of Research Papers, Ph.D. Thesis and Project Proposals

  One Week

N B Navale Sinhgad College of Engineering, Solapur

 20/12/2016

3

Prof. R D Deshmukh

Writing of Research Papers, Ph.D. Thesis and Project Proposals

One Day

N B Navale Sinhgad College of Engineering, Solapur

20/12/2016

4

 Dr. S H Kshirsagar

Writing of Research Papers, Ph.D. Thesis and Project Proposals

 One Day

N B Navale Sinhgad College of Engineering, Solapur

20/12/2016

5

Prof. K S Patil

Writing of Research Papers, Ph.D. Thesis and Project Proposals

One Day

N B Navale Sinhgad College of Engineering, Solapur

20/12/2016

6

Prof. S V Palmur

Writing of Research Papers, Ph.D. Thesis and Project Proposals

 One Day

 N B Navale Sinhgad College of Engineering, Solapur

20/12/2016

7

Prof S R Konda

Writing of Research Papers, Ph.D. Thesis and Project Proposals

One Day

 N B Navale Sinhgad College of Engineering, Solapur

20/12/2016

8

Dr. Y G Datar

Writing of Research Papers, Ph.D. Thesis and Project Proposals

 One Day

 N B Navale Sinhgad College of Engineering, Solapur

20/12/2016

9

 Dr. V. V. Kharat

Writing of Research Papers, Ph.D. Thesis and Project Proposals

One Day

 N B Navale Sinhgad College of Engineering, Solapur

20/12/2016

10

Prof. V S Biradar

 Use of Circuit Simulator in Teaching Basic Electrical and Electronics Courses

 Two Days

Vishwakarma Institute of Information Technology, Pune

27-28/01/2017

11

Prof. V S Biradar

Sexual Harassment of Women at Workplace (Prevention, Prohibition and  Redressal) Act, 2013

Half Day

N B Navale Sinhgad College of Engineering, Solapur

28/02/2017

12

Prof S V Palmur

Sexual Harassment of Women at Workplace (Prevention, Prohibition and  Redressal) Act, 2013

Half Day

N B Navale Sinhgad College of Engineering, Solapur

28/02/2017

13

Dr. Y G Datar

Sexual Harassment of Women at Workplace (Prevention, Prohibition and  Redressal) Act, 2013

Half Day

N B Navale Sinhgad College of Engineering, Solapur

28/02/2017

14

Dr. S H Kshirsagar

Sexual Harassment of Women at Workplace (Prevention, Prohibition and  Redressal) Act, 2013

Half Day

N B Navale Sinhgad College of Engineering, Solapur

28/02/2017
Workshop Conducted
A.Y.
Sr No
Coordinator
Title of FDP/STTP/STP/Conferences/Seminars/Workshops
Duration

2019-2020

1

Dr. I M Chandarki

" FDP on Latex " in collaboration with IIT Bombay

25th April to 1st May 2020 Exam on 5th May 2020

2

"Scilab and Latex Software for Research, Computation and Publication" in Collaboration with Punyashlok Ahilyadevi Holkar Solapur University, Solpaur

17th -18th Febuary 2020

3

"One day Workshop on C and C++" in collaboration with IIT Bombay

29th Febuary 2020

4

Dr. I M Chandarki and Prof. K S Patil

Water pollution and health(ICT12) organised in collaboration with NITTTR Kolkota

21st October-25th October 2019

5

Dr. I M Chandarki

" 5G Communication " organised in collaboration with NITTTR Chandigad

18th -22nd November 2019

6

"Rendezvous with Lori Beer- Global CIO, JPMorgan" in collaboration with IIT Bombay

05th November 2019

7

Dr. I M Chandarki and Prof. K S Patil

"Water Resources Management" organised in collaboration with NITTTR Kolkota

25th-29th November 2019

8

Dr. I M Chandarki

"One day Workshop on R" collaboration with IIT Bombay

9th September 2019

9

Laboratory Safety Management (ICTSPL02) organised in collaboration with NITTTR Kolkota

23rd September-27th 2019

10

Analysis and Design of Shallow Foundations (ICT10) organised in collaboration with NITTTR Kolkota

26th -30th August 2019

11

Organised online course in collaboration with IIT Bombay entitled "One day Workshop on Linux"

23rd August 2019

2018-2019

12

One Day Workshop on Scilab-by the Remote Centre Coordinator -N. B. Navale Sinhgad College Of Engineering, Kegaon, Solapur, Solapur. Organized by IITBombay.

04th May 2019

13

Organised online course in collaboration with NITTTR,Chandigarh entitled ICT based STC on "Mathematical Techniques in Solving Engineering Problems"through ICT

29th–3rdMay, 2019

14

One day workshop, on the' Scilab'for the projectNational Virtual Library of India(NVLI)sponsored by Ministry of Culture, Government of India

2nd May 2019

15

ICT Mode Short Term Training Programme on"NBA Accreditation (ICT01)" organized by NATIONAL INSTITUTE OF TECHNICAL TEACHERS' TRAINING AND RESEARCH, KOLKATA (Established by the Ministry of Human Resource Development, Govt. of India) Block – FC, Sector – III, Salt Lake City, Kolkata

22nd-26th April 2019

16

Course Coordinator for "Coordinators' Workshop onMoodle- 1 March 2019" by the Remote Centre Coordinator -N. B. Navale Sinhgad College Of Engineering, Kegaon, Solapur, Solapur. Organized by IIT Bombay.

1st March 2019

17

One day workshop forlibrary staff, on the'open source library software Koha'for the projectNational Virtual Library of India(NVLI)sponsored by Ministry of Culture, Government of India

12th October 2018

18

ICT Mode Short Term Training Programme on"Outcome Based Education and Accreditation (ICT04)"Organised in collabration with NITTTR, Kolkota

24th-28th September 2018

19

Organised online course in collaboration with NITTTR,Chandigarh entitled ICT-2 based STC on "Optimization techniques with Engineering Applications"

10th-14th December 2018
| | | | |
| --- | --- | --- | --- |
| A.Y. | Sr No | Title of FDP/STTP/STP/Conferences/Seminars/Workshops | Duration |
| 2107-18 | 1 | One day workshop on "FE syllabus framing" | 28/06/2018 |
| 2016-17 | 2 | Two Days "Faculty Development Workshop" | 25-26/03/2017 |
| 2015-16 | 3 | One day workshop on "FE syllabus framing" | 15/02/2016 |
Result
FE Toppers
A.Y. 2017-18
| | | | |
| --- | --- | --- | --- |
| Name | Branch | CGPA | Grade |
| Subhedar Zoha Anjum Abdul M                                    (09 th Rank in the University) | CSE | 10 | O |
| Mali Mrunal Mukund | CSE | 10 | O |
| Purud Pushkaraj Girish | MECH | 10 | O |
| Shirhattimath Sameer Ravindra | ENTC | 10 | O |
| Jahagirdar Juber Tanveer | ELECT | 9.92 | O |
| Dasime Jyoti Ankush | ENTC | 9.84 | O |
| Dyawarkonda Lata Subhash | CSE | 9.82 | O |
| Raul Navina Nagraj | CSE | 9.82 | O |
| Munale Shivani Ramling | CSE | 9.75 | O |
| Biradar Dipak Ashok | MECH | 9.75 | O |
| Mole Anisha Suresh | CSE | 9.67 | O |
| Kannurkar Rekha Nurandappa | CSE | 9.65 | O |
| Rajmane Aishwarya Rajshekar | CSE | 9.65 | O |
| Holkar Rohit Rajendra | ELECT | 9.59 | O |
| Gajul Rakesh Vitthal | CIVIL | 9.59 | O |
| Nannaware Vijay Dattatray | MECH | 9.55 | O |
| Pawar Kiran Sharad | MECH | 9.55 | O |
| Atanure Laxmi Basavraj | ENTC | 9.5 | O |
| Gurav Yash Suresh | CSE | 9.49 | O |
| Manekari Akshay Shriniwas | CSE | 9.47 | O |
| Patil Anuradha Shivanand | ENTC | 9.42 | O |
A.Y. 2015-16
Sr No.

Name

Photo

Branch

CGPA

Grade

1

Ms Vaishnavi Dilip Gundu

 

CSE

10

0

2

Ms. Aboli Surendra Jangam

 

 

CSE

10

0

3

Ms Ashwini Narendra Chauhan

 

ENTC

10

0

4

Ms Soumya Dayanand Kalyanashetti

 

ENTC

10

0

5

Ms Avanti Akrur Khatake

 

CSE

9.84

0

6

Mr Vishal Venkatesh Ankam

 

ELECT

9.84

0

7

Mr. Ajay Madhukar Gavas

 

Mech

9.84

0

8

Mr. Soham Mukund Hingane

 

MECH

9.8

0

9

Ms Vaishnavi Vivek Inamdar

 

MECH

9.8

0

10

Ms Swapnali Dilip Deshmukh

 

ELECT

9.68

0

11

Mr Kiran Vittal Gajul

 

MECH

9.68

0

12

Ms Aishwarya Dada Hajare

 

MECH

9.64

0

13

Ms Shreya Narendra Madhekar

 

MECH

9.64

0

14

Mr. Purushottam Sukvant Dhepe

 

MECH

9.52

0

15

Mr. Shailesh Prakash sathe

 

CIVIL

9.48

A+

16

Ms Isheari Chandrakant Dhonde

 

CSE

9.48

A+

17

Mr. Akshya Gajanan Bharle

 

MECH

9.48

A+

18

Ms. Apurva Vijaysinh Deshmuhk

 

MECH

9.48

A+

19

Mr. Adarsh Arun Sathe

 

MECH

9.48

A+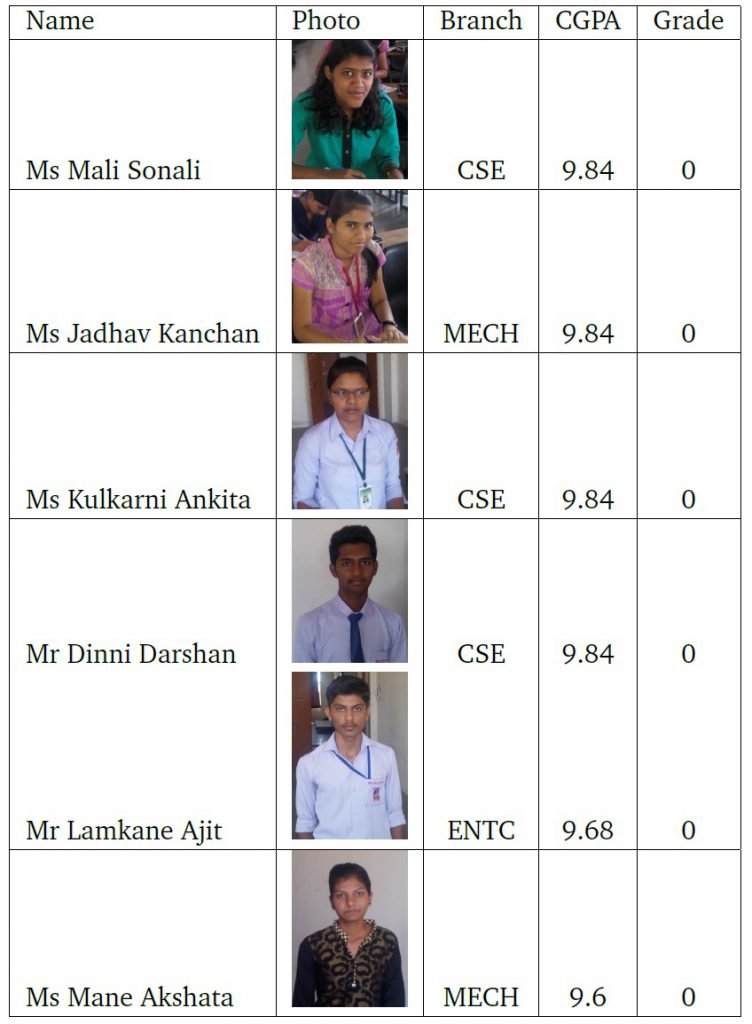 Staff Achievement
Staff Achievement
AY 2019-20
 
Details of Achievements / Appreciations / Recognitions / Awards
Name of Staff
Particulars
Received from
Date

Prof. K S Patil

Appriciation letter for Coordinated 15th Youth Festival of Solapur University Solapur

Principal NBNSCOE Solapur

31st January 2020

Prof. K S Patil

Appriciation letter for Coordinated 15th Youth Festival of Solapur University Solapur

Vice-Canceller PAHSU Solapur

31st January 2020

Dr. V V Kharat

Chief guest for National Mathematics Day

Shravika High School, Solapur

21st December 2019

Prof. V S Biradar

Appriciation letter for Course journal during 2 week FDP At DYPCOE Akurdi.

FDP Cource Coordinator

15 th November 2019

Prof. K S Patil

Appriciation letter as Active learner during 2 week FDP At DYPCOE Akurdi.

FDP Cource Coordinator

12 th November 2019

Dr. I M Chandarki ,Dr.V V Kharat

Special Achievment Award

N B Navale Sinhgad COE,Solapur

5th September 2019

Prof.R D Deshmukh

Awarded Best Teacher for acedemic excellence year 2018-19 (GSE Dept)

N B Navale Sinhgad College of Engineering,Solapur.

5th September 2019

Prof. M A Kazi

Awarded "Elite " certificate for successfully completing the NPTEL online course in the subject "Introduction to Abstract and Linear Algebra "

NPTEL

August-October 2019

Prof. S V Palmur

Awarded "Elite " certificate for successfully completing the NPTEL online course in the subject "Mathematical Methods for Boundary Value Problems" )4Weeks Course)

NPTEL

July-September 2019

Dr. I M Chandarki

Ph.D. Guideship in Mathematics

PAH Solapur University Solapur

04th June 2019

Dr. V V Kharat

Recognized as a PG teacher and research guide in Mathematics

Punyashlok Ahilyabai Holkar Solapur University, Solapur

Apr. 2019

Dr. V V Kharat

Reviewer of Mathematical Reviews /MathSciNet of American Mathematical Society (AMS)

Mathematical Reviews /MathSciNet of American Mathematical Society (AMS)

2019

Prof.S V Palmur,Dr.S H Kshirsagar

Awarded Best Teacher for acedemic excellence year 2017-18 (GSE Dept)

N B Navale Sinhgad College of Engineering,Solapur

20th September 2018

Dr. S H Kshirsagar

Awarded "Silver " certificate for successfully completing the NPTEL online course in the subject " Solid State Physics"(12 weeks Course)

IIT Khargpur, NPTEL Online Course

July -Octber 2017
AY 2018-19
Sr. No.
Name of Staff
Details of Achievements / Appreciations / Recognitions / Awards
Particulars
Received from
Date
1

Dr. I. M. Chandarki

Letter of Appreciation

CRTD , Sinhgad Institutes