Computer Science and Engineering
MoU Details(For A.Y. 2013-14,  2014-2015, 2015-2016, 2016-2017)
 
 
 
 
 
 
Sr. No.
MoU made by Department
MoU Signed by
Date of MoU 
Name of Industry/Institution
Address of Industry/Institution
Contact No 
Email Id
Type of MoU
Outcome of MoU
Photograph while signing the MoU
1
Computer science & Engineering
Prof. A. A. Phatak (HOD)
18/01/2016
Dream Technology
52,Near SB Vihar, Opp. Balaji sarovar Premier, Asra, Hoygi road, Solapur - 413003
0217-2603060
dream.technology@outlook.com
Student training, placement, Project & Sharing of Human Resource
3 Students got selected
 
2
Computer science & Engineering
Prof. A. A. Phatak (HOD)
20/01/2017
SECHZEHN TECHNOLOGY
1426, Krantiveer Vasudev Phadke Peth, Perugate, Sadashiv Peth, Pune-411030
091455 66652
akshaymandekar16@gmail.com
Student training, placement, Project & Sharing of Human Resource
Dept. receieved list of sponsored project
Not Available
Singining  MOU with Dream Technology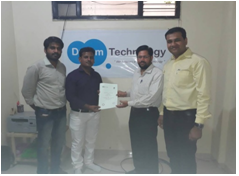 Electronics and Telecommunication Department
Sr. No.

MoU made by Department

MoU Signed by

Date of MoU 

Name of Industry/Institution

Address of Industry/Institution

Contact No 

Email Id

Type of MoU

(For eg. Student training, placement, Project & Sharing of Human Resource, Infrastructure Utilization etc..)

Outcome of MoU

1
E&TC
Dr.S.D. Nawale, Principal, NBNSCOE, Solapur
27th July 2016
Reliance Jio
Mumbai
 
 
Student Training
Technical Research, Smart Classroom 
Civil Engineering
Sr. No.
MoU made by Department
MoU Signed by
Date of MoU 
Name of Industry/Institution
Address of Industry/Institution
Contact No 
Email Id
Type of MoU
(For eg. Student training, placement, Project & Sharing of Human Resource, Infrastructure Utilization etc..)
Outcome of MoU
1
CIVIL ENGG.
Mr.Pravin Bhukan
21.6.2016
Matrix Consultancy
Pune
9403492895
pravin.bhukan@gmail.com
students training
In this MoU Students of civil engineering department will get the benefit of learning of software's like Auto cad, ETABS, STAAD Pro. etc. Training of these software will be given by above firm with very nominal cost.
Mechanical Engineering
Sr. No.
MoU made by Department
MoU Signed by
Date of MoU 
Name of Industry/Institution
Address of Industry/ Institution
Contact No 
Email Id
Type of MoU
(For eg. Student training, placement, Project & Sharing of Human Resource, Infrastructure Utilization etc..)
Outcome of MoU
1
Mechanical Engineering Dept
Dr. S.D. Nawale
17.01.2016
Tata Technologies Limited
Pune
9823089893
Tanisha.Shekhawat@tatatechnologies.com
DRE Course for Mech students, Placement
Knowledge up gradation, placement 
2
Mechanical Engineering Dept
Dr. S.D. Nawale
29.05.2016 
SPAN Associates
Pune
9822022084
vidyadharkelkar@spanassociates.co.in
Placement, Training, Visit, Projects
Placement, Training, Visit
3
Mechanical Engineering Dept
Dr. S.D. Nawale
15.09.2016
Geometric Limited
Pune
 
 
Software course training, career guidance, online support for software training
Lab work material, technial information exchange
4
Mechanical Engineering Dept
Dr. S.D. Nawale
27.01.2017
Kisan Irrigations and Infrastructure Ltd
Tamalwadi
8691076521
jayesh.ramawat@kisanirrigation.com
Placement, Training, Visit, Projects
Placement, Training, Visit
PHOTOGRAPHS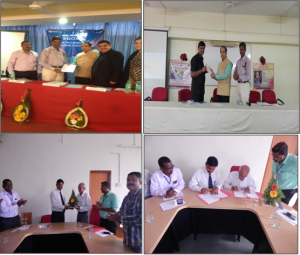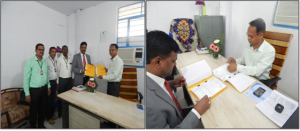 Electrical Engineering
Sr. No.
MoU made by Department
MoU Signed by
Date of MoU 
Name of Industry/Institution
Address of Industry/Institution
Contact No 
Email Id
Type of MoU
(For eg. Student training, placement, Project & Sharing of Human Resource, Infrastructure Utilization etc..)
Outcome of MoU
1
Department of Electrical Engg
Dr S D Nawale Prof R B Gharase
Mar-16
K-watt Solution Pvt. Ltd. (India)
CM-08, 3rd floor CSRE Building, SINE IIT Bombay,Powai,Maharashtra-400076
022 25728065
info@kwattsolutions.com
Student training,project & sharing of Human Resource,Infracture utilization
Helpful for students in their projects and knowledge regarding solar technology
2
Department of Electrical Engg
Dr S D Nawale
Apr-17
SKADA Technology Solutions Pvt. Ltd. Pune
Second Floor, Trimurti Corner, above Bank of Maharashtra, Near Pooja Hospital, Pimple Gurav, Pune 411061 (MH-INDIA)
020 65320024/ 020 65420024
info@skadatechnology.com
Student training on PLC and SCADA, project & sharing of Human Resource, Infracture utilization, Research Lab setup, Placement
Helpful for students in their projects and knowledge regarding solar technology
PHOTOGRAPHS