NBNSCOE TRAINING & PLACEMENT CELL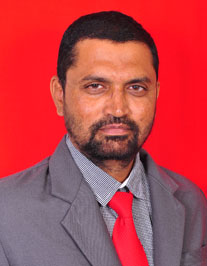 Prof. V. R. Marathe
(Training & Placement Officer)
VISION
To develop national and international links with the business organizations to be able to create meaningful relationship & opportunities for the placement of the students in the global job markets.

To develop students who are globally employable & ready hands to the industry.
MISSION
To strengthen and enhance Industry – Institute partnership by way of campus connect.

To create maximum opportunities for the placements of the eligible students in the job market by establishing a rapport with the industry people.

To impart personality development training to the students to face this competitive era.
About Us
Placement Statistics
Placement Summary
Student Development Program
Our Recruiters
Contact Us
About Us
                   The institute started making students corporate ready from first year of Engineering. As per student's interest, we provide different training so that students will face campus placement drives with full confidence. Training and Placement cell is headed by Dean, Central Placement Cell (CPC) along with an institute level training and placement officer who coordinates with various department level faculty coordinators for its activities. All department students registers to T and P  cell. Employability tests (ET) are conducted by the cell to train the students for placements. Based on the company criteria and ET score, students are short-listed for placements. The structure of training placement department is as follows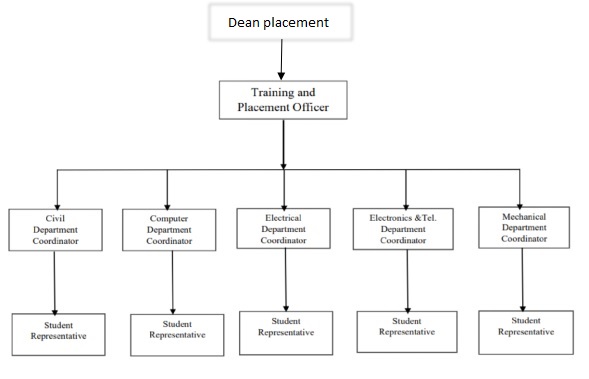 The institute provides different training to the students such as quantitative aptitude, logical reasoning, verbal, soft skills, domain specific training etc.to enhance employability skills. The in house faculty as well as external training experts train the students on different aspects to make them employable.
Training on Soft Skills:
It covers training on SWOT Analysis, Goal Setting, Personality and Stress Management, Behavioral Skills, Listening, Reading (Technical and Non-technical), Writing (Letter, Resume, CV, Report), Speaking (Public speaking, Group Discussion) and AMCAT Assessment to assess need for training in soft skills.
Training on Communication Skills:
This part of training includes Listening, Reading, Writing, Speaking skills, group discussion, extempore, participation in different college level events such as debate competitions, public speaking competitions etc.
Training on Technical Skills:
The domain specific training such as Python, C, C++, JAVA, SQL, AutoCAD, CATIA, STAD PRO, PLC etc. is organized by all departments to make students corporate ready
Interview Preparation:
Mock HR interviews, mock technical interviews, online webinars of alumni to share experience of interviews etc. are arranged
Value Addition Program:
The recent cutting edge technology training has been arranged by the departments in make student's more technical sound as per need of industry, the Value addition programs are arranged.
Placement Statistics
Number of outgoing students placed and progressed to higher education during the last five years

 

 

 

Year

Department

2022-23

2021-22

2020-21

2019-20

2018-19

 

Outgoing students

Placed department wise

ENTC

24

37

33

82

86

Civil

9

40

46

46

48

CSE

46

51

63

53

60

Mech

22

67

123

144

192

Electrical

10

18

46

40

46

Number of outgoing students placed

111

213

311

365

432

Number of outgoing students progressed to higher education

6

12

13

9

15

Total number of outgoing students   placed and / or progressed to higher education

117

225

324

374

447

Number of outgoing students year wise during the last five years

196

358

436

523

603

Percentage of placement of outgoing students and students progressing to higher education

59.7%

62.9%

74.5%

71.6%

74.2%

Average percentage of placement of outgoing students and students progressing to higher education in last five years

70.27 %
Placement Summary
Student Development Program
Our Recruiters
Contact Us
Contact Us
Training & Placement Department of N. B. Navale Sinhgad College of Engineering, Solapur
Address:
Opp. Solapur University, Solapur
 Kegaon, Solapur-Pune Highway
Dist. Solapur, Pincode- 413255
Contact:
Prof. V. R. Marathe,

Training & Placement Officer

NBNSCOE, Solapur

Mob-9423386919

Email:tpoffice.nbnscoe@gmail.com